Community Events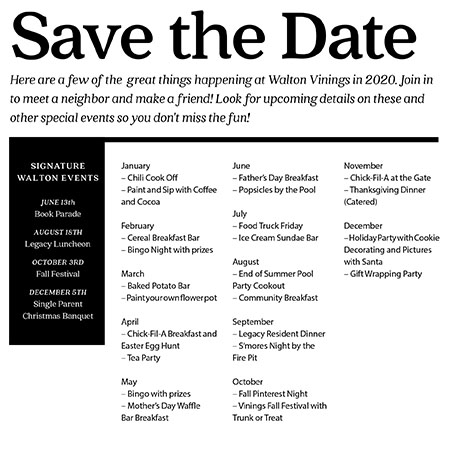 Update to Community Policy
Hello Residents,
In an effort to protect the health and well-being of our team members and communities, we ask that all residents avoid visiting the Leasing Office for needs that can be met via phone, e-mail or the resident portal.
In addition, effective Friday, March 20th, until further notice, we will not be accepting packages in the leasing office.

Please take a moment to update your contact information and opt into text and voice messaging on your account.
Thank you,
Walton Communities
Smoke Free Transition
To provide a healthier, more enjoyable environment for every resident, Walton Vinings has made the decision to transition to a "Smoke Free" community over the course of 2020.
Please understand at the time of your renewal with Walton Vinings, your new lease will include a Smoke Free Addendum. The addendum will state that smoking will not be permitted in the community. This policy prohibits smoking:
Within the apartment home, including patios

Amenity areas such as the pool and picnic areas

Common areas such as breezeways, sidewalks and extending to any portion of grounds at Walton Vinings

This policy also covers the use of electronic cigarettes and vaping
As with any community rule, this rule applies to residents and extends to guests. Please consider this new lease stipulation at the time of your renewal at Walton Vinings. Failure to adhere to this new lease stipulation will result in material breach of lease and termination of lease agreement.
This Smoke Free addendum will be added to all leases, for new residents and renewals, beginning on April 1st 2020.
We anticipate this improvement will add to your enjoyment of Walton Vinings. With less litter, improved property appearance, and a healthier community, we hope we can continue to provide a community you are proud to call home.
Please feel free to contact the leasing office with any questions you may have.
Sincerely,
Walton Vinings Management